About Us
Jump to: Officers | Committee Chairs
Our Mission
The mission of this organization is to equip all women for success in the workplace through education and information, and to recognize and honor the accomplishments of working women.
BPW: Who We Are
BPW members are working women seeking to advance their career goals, earn higher salaries, build stronger business, achieve pay equality and equal opportunities, and establish rewarding careers. As all women gain earning power and spending power, they are reshaping U.S. consumer trends. And BPW members are on the leading edge of that trend.
History of BPW
Business and Professional Women/USA, founded in 1919, promotes equality for all women in the workplace through advocacy, education and information. With 1,500 Local Organizations across the country and members in every congressional district, BPW Foundation is the leading advocate for millions of workingwomen on work-life balance and workplace equality issues. BPW local organizations provide members with professional development programs, networking, participation in grassroots activism, and opportunities to support scholarships for disadvantaged women.
75% are women working in business
30% are professionals in the fields of law, medicine, government, finance, education, and engineering
30% are CEOs, executives and managers
30% are small business owners
70% have a graduate or post graduate degree
BPW: Working for Workplace Equality and Work-life Balance
BPW Foundation's commitment to America's working women is reflected in our Signature Events, programs and work that benefit local communities, aid in the personal and professional development of women, and raise awareness of issues affecting working women among business leaders and legislators.
Signature Conferences, Events and Programs sponsored by BPW Foundation are important tools for communicating the core values of BPW and connecting women across the country as they learn from each other, support each other, network, improve working conditions, and create lifelong friendships.
Signature Events Include:
Policy and Action Committee held annually for grassroots members in Washington, DC to learn and lobby.
Women Mean Business Awards recognize women who are leading the way
Equal Pay Day and Unhappy Hours highlight the continuing wage gap
Career Advancement Scholarships support women 25 years or older wanting to improve their lives and careers
National Business Women's Week has for more than 85 years spotlighted the accomplishments of women and their importance to American business. Virginia Allen Young Careerist Program helps young women and men, 21-35, hone their professional skills
Individual Development Programs help women build the skills that will enable them to take that next important step in their career

WOMENomics forums address issues that affect working women in order to gain a better understanding of what they need and want to achieve work-life balance

The BPW Foundation - Women Helping Women Achieve Success
In 1956, BPW members established the BPW Foundation, a 501(c)(3) charitable organization, to promote equality for working women through education, information, research and financial assistance as well as serving as a resource on issues affecting women in the workplace. Since 1969, the BPW Foundation has awarded more than 6million dollars in scholarships, loans and grants to over 8,000 women seeking to improve their lives.
Uptown Midland BPW Officers: 2017-2018
President - Annette Dozier

Probity SWD, LLC

432-570-1122
annette@aislarllc.com

Vice President - Tyna Gober

Secretary - Ingrid Burton


ingrid.burton@laredopetro.com

Treasurer - Emily Weinberg

UT Small Business Development Center at UTPB

432-770-8907 (c)
Director - Mona Bethany
T Bob Amthor Co., Inc.
432-684-4692 (w)
mona@tbobamthor.com

Director - Shirley Harris

T Bob Amthor Co., Inc.

432-684-4692
Below, l-r: 2017-2018 Officers - Emily Weinberg, Treasurer; Ingrid Burton, Secretary, Annette Dozier, President, Tyna Gober, Vice President, Front Row - Mona Bethany, Director and Shirley Harris, Director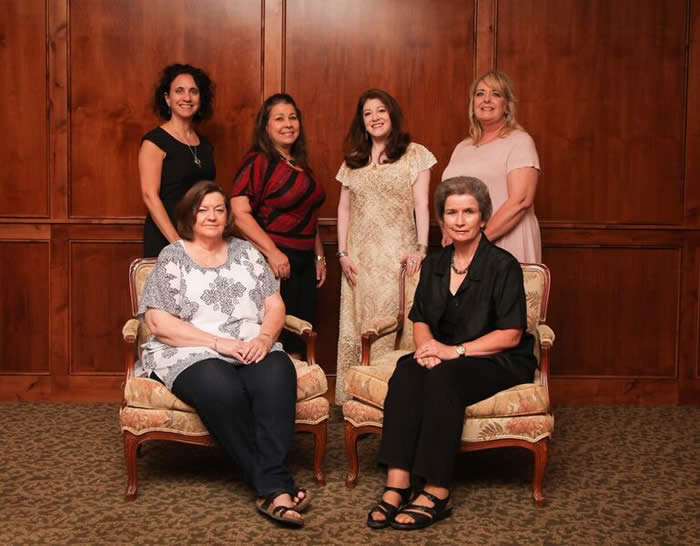 Uptown Midland BPW Committee Chairs: 2017-2018